Shipping & Taxes
Shipping information

Shipping Methods

We offer different shipping methods to deliver our products over the globe safely and quickly. We work with UPS, DHL, EMS. You can choose the shipping method you like, such as ocean shipping, DHL and more. We will inform you the situation before we ship out your goods, so please keep in touch with our sales.

You can also choose "Pick Up", which means that you take the goods directly from our warehouse without paying the shipping fee.



Shipping Time



The shipping time depends on the goods you order and the shipping method you choose. Generally speaking, your order will be shipped out within 1~3 business days after payment being confirmed. Shipping time of customized products may be longer depending on the order amount and production techniques.

After your order is shipped out, the delivery time solely depends on the shipping method you choose. So please pay attention to the delivery time of each international courier before you choose. Due to the impact of the pandemic, the delivery time will be temporarily changed as follows:



Shipping Methods
| | |
| --- | --- |
| Shipping Methods | Delivery Time |
| UPS | About 5-10 Business Days |
| DHL | About 5-10 Business Days |
| EMS | EMS About 20-30 Business Days |
| Ocean Shipping | Please contact us |
* This chart is only for reference. Delivery time can be affected by many factors.

Notes:
1. No delivery service is provided on European affiliated islands.
2. The United States, excluding remote areas such as Alaska and Hawaii, and overseas addresses such as Puerto Rico and Guam; APO/FPO military addresses.
3. South Africa: South Africa's affiliated islands and PO BOX email addresses do not provide delivery services.
4. Should postal address be provided with incorrect or inadequate information resulting in non-delivery, customers will be charged the additional postal charges so incurred.

All tracking number via DHL can be tracked on
https://www.dhl.com/global-en/home.html
All tracking number via YunExpress can be tracked on
https://www.yuntrack.com/
or
https://www.17track.net/en
Shipping Cost



The shipping cost depends on the distance between your location and China and the shipping method you choose. You can calculate your shipping cost by clicking the "underscore part" to Calculate Shipping Cost beside the "Shipping Cost" on each product page, or on the checkout page before payment. The shipping costs for different shipping methods will be displayed clearly. See the example below.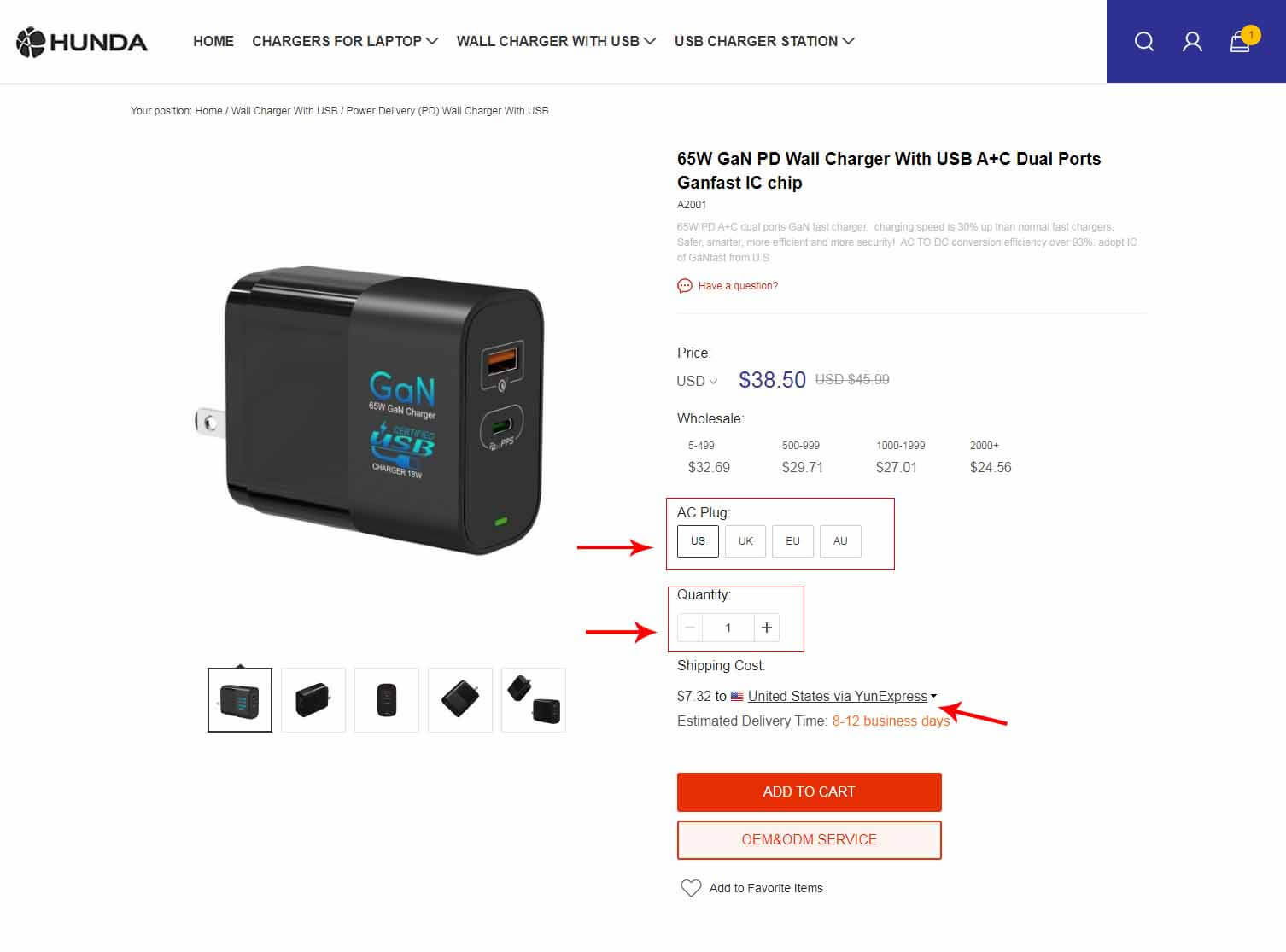 shipping method will be automatically chosen by our system according to each specific situation like product categories, shipping address, shipping agent or packing material. Thus, shipping fees of two different orders with the same weight may differ slightly.



Taxes & Duties





Q: Do I have to pay tax?



A: Maybe. It depends on which country you receive the goods. Some countries have few restrictions to import goods and no taxes. Other countries are quite restrictive and have high taxes. Before you import large quantities of China electronics to your country, you'll need to research the law and practices in your country (or shipping destination countries if you are dropshipping internationally). Please note that no sales taxes or any other hidden fees are charged by huwder.com.



Q: Do you add extra tax charges, VAT, sales tax to order totals?



A: No, we do not add any sales taxes or hidden charges to orders. The order total you see (goods total + shipping+ Bank/Paypal handling charge) is what you pay us. However, you may be charged some taxes by Custom of your country when importing goods. Please consult your local tax office in advance.



Q: How do you deal with Custom problems? What are you going to do if our goods get stuck at the Custom?



A: We have customers in different countries and normally have no problem to get through the Customs. However, we could not 100% guarantee, since Custom policy may change. If your goods get stuck at the customs, we will do everything possible to help.



Q: Do I need special knowledge for importing goods through Customs?



A: No, in most countries, import is easy and you don't need to do anything special. The courier or freight company will manage the whole clearance process at Customs for your small or medium-sized orders.



Q: The customs told me to wait 2 months. What should I do?



A: Would you please find a custom clearance agency to help you with this? A custom agency can help you more than us since we are not much clear about the rules in your Custom. In the meantime, we will do whatever we can to help you.



Q: What documents do you provide? Will we get everything we need for custom clearance?



A: We generally provide a commercial invoice as attached with every shipment, if you have any special request for the invoice or need more documents, please feel free to contact us.



Q: I have not received the goods, it has been blocked by Custom, please give me the full refund.



A: Sorry to hear that, we stated on the website that customers are responsible for the destination custom clearance, as we only can promise to deliver parcel safely through the custom in China, we do not know much about your custom, we feel really sorry for the problem with your last shipment. Please contact with your related sales for resolutions.